STEIN 400
For heavy items
The STEIN 400 performs particularly heavy jobs. It transports heavy workpieces weighing up to 80 kg safely and effortlessly through the production process. Despite the heavy parts, configuration and control of the system is still easy with the tried-and-trusted STEIN CONTROL Solution.
Efficient for heavy workpieces
This efficient and safe solution in particular impresses operators every day. The pallets move gently up to each other with STEIN SOFTMOVE technology, preventing wear, vibration and noise despite the workpieces weighing up to 80 kg. Various products in a variety of sizes can be transported at the same time on one pallet.
Easy transport with STEIN SOFTMOVE
Gentle, fast and jam-free transport is made possible with intelligent EC motors. The pallets themselves move on ball-bearing rollers which are under the belt, thus eliminating the disadvantage of their heavy weight.
The benefits of STEIN 400
extremely quiet
for weights up to 80 kg
pallet sizes from 240 x 240 mm (freely scalable)
speeds up to 30 m/min.
large selection of components (transfer unit, centering devices…)
minimal wear and tear due to roller cassettes
flexible transport
At STEIN, your employees take centre stage
In addition to the subject of networking, STEIN also promotes mechanical innovation. Ergonomics plays a very important role here. With our systems, operators are free to decide whether they want to sit or stand to work. The height of the conveyor belt automatically adapts to the requirements of your employees.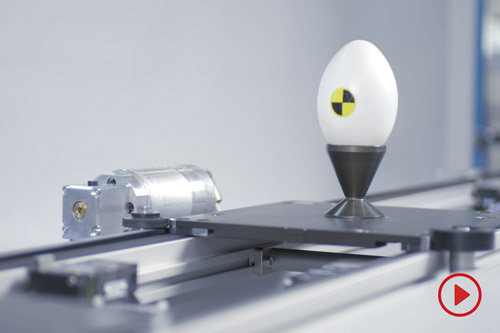 quiet
– SOFTMOVE –
The gentle drive of the motors dramatically reduces noise. Pallets do not bump against each other. Belts do not wear through.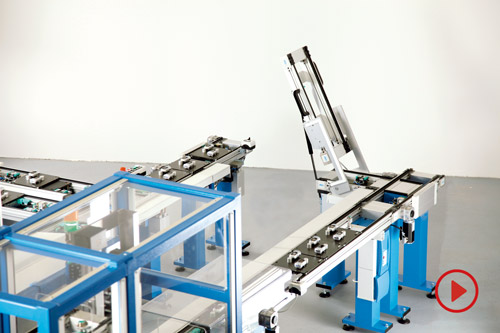 convenient
 – Gate element –
Free access to closed internal spaces in the system allows installation technicians to work in a relaxed – and more successful – way. This can reduce the downtime.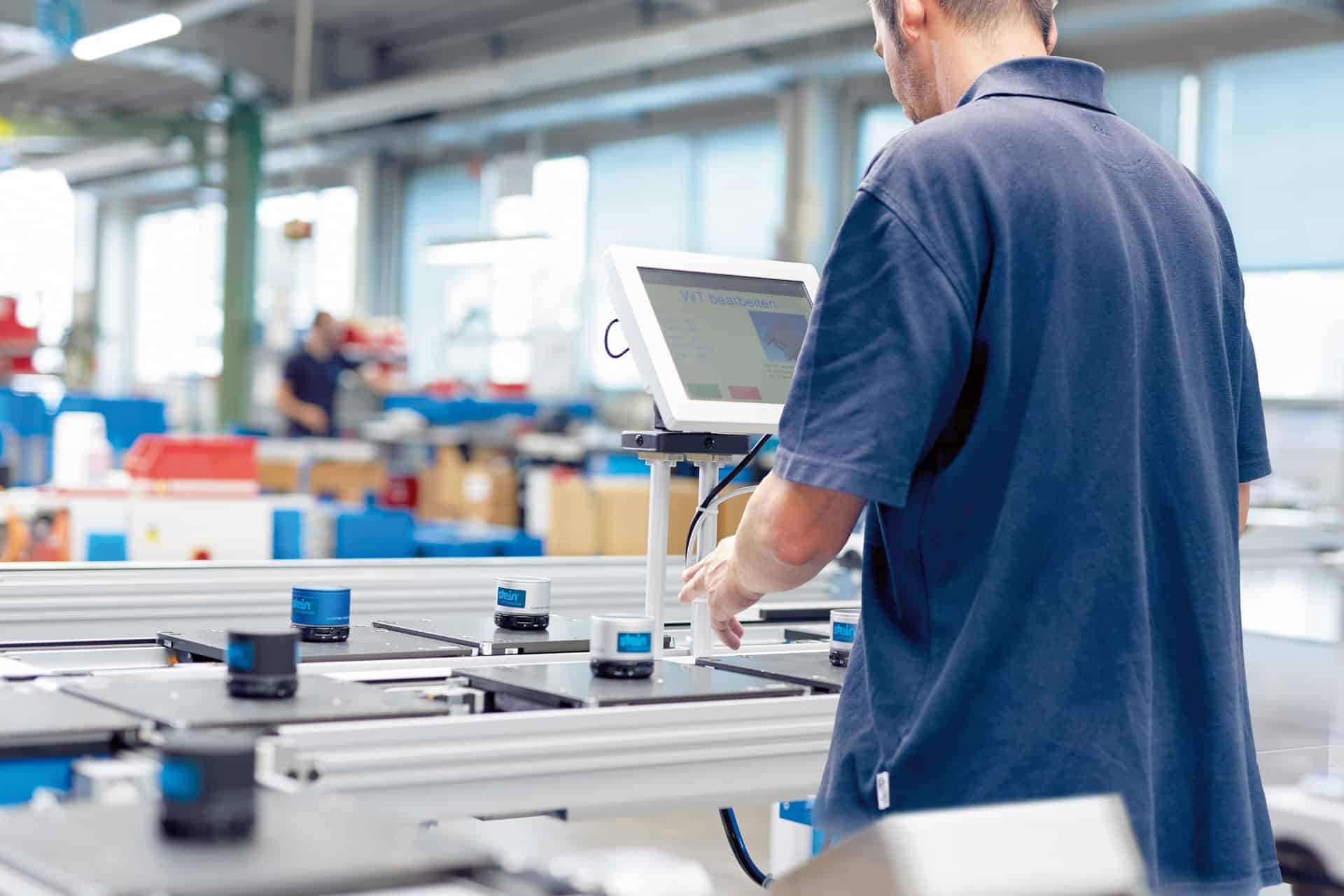 informative
– Display terminal –
The product communicates with the operator. This supports the working process directly, especially since this feature is also available as a navigator.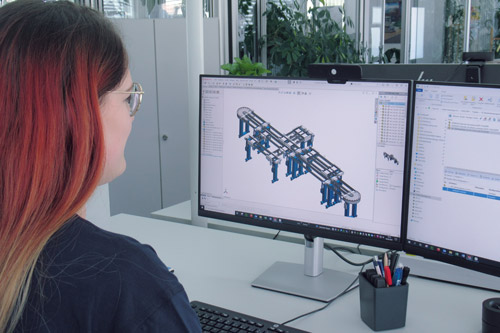 fast
– STEIN CONTROL –
Individual orders and entire production schedules can be created with just a few mouse clicks. This allows our customers to configure their processes very easily without having to do any programming.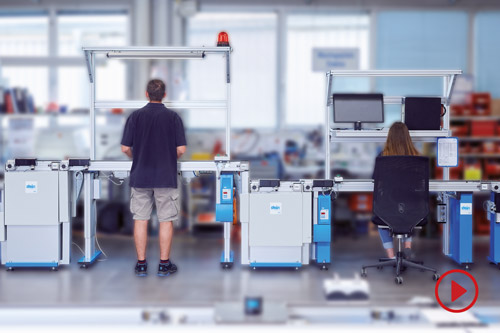 ideal
 – Height adjustable –
Everyone is unique and has their own ideal working height. With STEIN, operators are free to choose the height, allowing them to stay relaxed to provide the best performance. Your employees and customers will certainly thank you.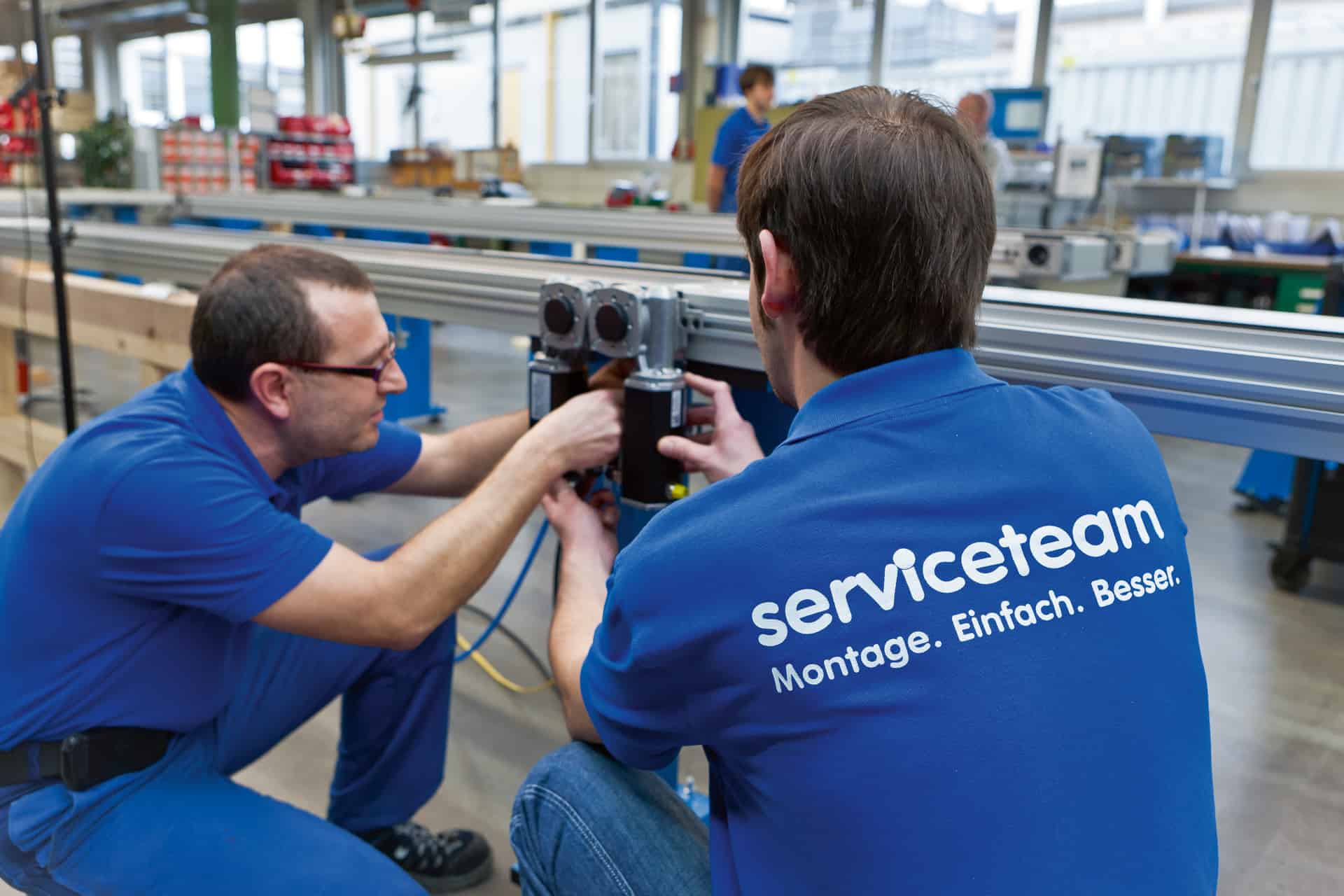 reliably
– Durability –
The longevity of the transfer line as well as the professional consultation is repeatedly confirmed by our customers. Continuous improvement is firmly anchored in our daily work.
STEIN 300
The STEIN 300 has a fixed place in over 3,900 assembly halls. With a vast range of customers and in a wide variety of configurations.
From a simple circuit right through to ERP connection or traceability functionality, each installation is custom-made for our customers using a standard toolkit.
STEIN 300
e
STEIN promotes the trend towards electrification with the STEIN 300e, which is based on the STEIN 300. Instead of pneumatics, the stoppers, transfer units or centering devices are controlled via electric drives. This is particularly a big advantage for cleanroom applications. As a side benefit, your production is more environmentally friendly.
STEIN Control
The sophisticated control system inspires the users with its simple operation and flexibility. Order and product management and especially the timetable can be easily created and changed without SPS programming knowledge.
Especially in times of Industry 4.0 vertical integration is possible by the STEIN CONTROL.